2016-2017 Near and Middle Eastern Civilizations Graduate Student Symposium
Transformation Across Time and Space:
The Near and Middle East in Context
The NMCGSA Symposium is an annual academic conference organized by the Department of Near and Middle East Civilizations, at the University of Toronto. This year, the 21st Annual Symposium will be held on March 9th, 2017. Guests MUST register for the event on Eventbrite – admission is FREE! A limited number of complimentary lunch and dinner reception tickets are also available upon online registration.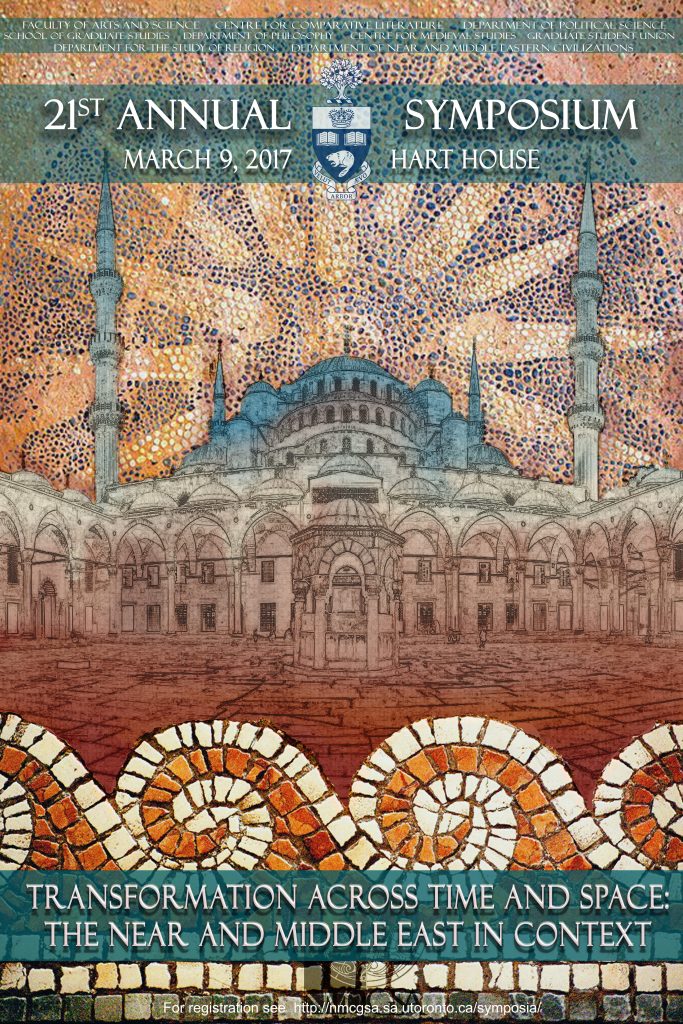 For more information, please visit our Facebook page, Facebook event, or e-mail us at: nmcgsasymposium@gmail.com
WE WOULD LIKE TO EXTEND OUR GRATITUDE TO OUR SPONSORS FROM THE UNIVERSITY OF TORONTO, WITHOUT WHOM ORGANIZING THE EVENT WOULD NOT BE POSSIBLE: FACULTY OF ARTS AND SCIENCE; SCHOOL OF GRADUATE STUDIES; GRADUATE STUDENT UNION; DEPARTMENT OF NEAR AND MIDDLE EASTERN CIVILIZATIONS; CENTRE FOR COMPARATIVE LITERATURE; DEPARTMENT OF POLITICAL SCIENCE; DEPARTMENT FOR THE STUDY OF RELIGION; CENTRE FOR MEDIEVAL STUDIES; DEPARTMENT OF PHILOSOPHY.